Regular price
Sale price
$24.99 USD
Unit price
per
Sale
Sold out
This product is in a base of Arnica oil which is used by many practitioners to speed the healing of muscle-skeletal injuries. Comfrey, rich in minerals, was known as "bone knit", has been traditionally used for skin rejuvenation, scars, breaks, injured bones, sprains, mild burns & rough skin.  Peppermint  & rosemary oil may relax spasms, ease discomfort of stiff, sore inflamed muscle, sprains, strains. It's cooling effect can help reduce warm conditions. Wintergreen has a sweet, mint-like scent. Camphor & wintergreen are commonly used in muscle and joint ointments for pain relief, gout & respiratory products, too. It contains natural salicylic acid, a pain & inflammation reliever found in willow bark & Aspirin.  Eucalyptus & rosemary oil for joint pain, muscle aches, headaches & the swelling that may accompany arthritis, rheumatism & injuries. It has anti-fungal, anti-bacterial & anti-viral properties & is used topically when diluted for coughs & colds. These oils have a stimulating effect, which may help improve circulation, therefore reducing pain & swelling of arthritis, muscles, spasms, injuries & sprains. As circulation improves, less toxins settle in joints/tissues, which may aid in reduction of inflammation/ pain. Rosemary increases cellular metabolism, circulation and lymph drainage. 
Directions: Both the oil or salve is for external topical use only. Use for any non-open wounds. Great to use as a therapeutic, extra-healing massage oil on tense, sore, aching muscles. Use on bruises, sprains & arthritis, tense neck muscles or on inflammation or sore joints. May speed recovery after exercise or trauma. A mildly warming liniment to use on non-broken skin, to help accelerate healing, ease inflammation of trauma, sprains, bruises, breaks, arthritis, gout, tense sore muscles. Great for after exercise, for menstrual cramps and associated low-back pain or as a chest rub for colds. Great to help relieve those tense neck muscles that can lead to stress headaches or to use on tired or achy sore feet, or stiff sore low backs Please do not use on open or bleeding skin/external use only, Avoid eyes!
Ingredients: Local, handpicked, organic, Arnica Montana flowers, comfrey root & leaf, extra virgin olive oil, sunflower oil, natural vitamin E & jojoba oil & 100% certified organic, natural, fair-trade, pure & natural essential oil of Eucalyptus, Peppermint, Rosemary, Wintergreen and Camphor. 
Cautions: Avoid peppermint essential oil during pregnancy or nursing, due to the fact it can stop milk flow & bring on menstrual flow. These essential oils may irritate the skin of individuals with sensitive skin. Do not use products like this which contain peppermint if you have high blood pressure. Avoid rosemary essential oil if you are an individual with seizure disorders. Avoid with salicylic allergy. Avoid eyes. Avoid using on delicate fabrics like silks or satin due to it's essential oil content. 
Share
View full details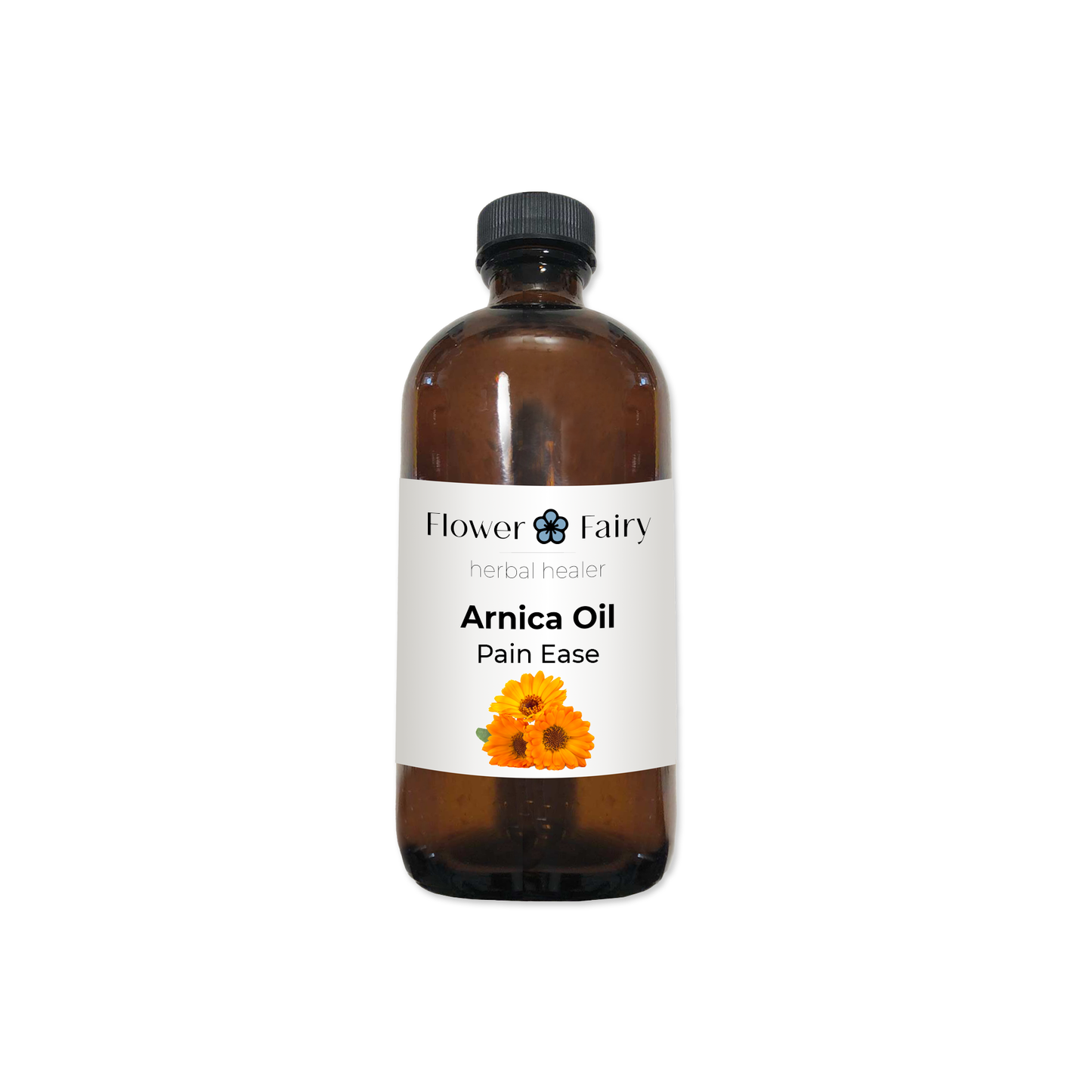 Collapsible content
Sustainability

Extra packing material like boxes are not used - only minimal packaging to reduce waste and energy.

Glass, plastic bottles, droppers are fully recyclable.

High quality dark glass bottles for better preservation.

Plastic is PET, BPA free, 100% recyclable and highly sustainable.
Ingredients

USA/North American Certified Organic, Non-GMO ingredients, no synthetic processed oils, gluten free, Vegan, no animal cruelty, paraben free, none of the harmful chemicals or preservatives which can be hidden in the label under various names.

Ingredients are always ethically and sustainably sourced.
HANDMADE

QUALITY INGREDIENTS

CERTIFIED ORGANIC

ECO SUSTAINABLE

MADE IN NORTH AMERICA