Regular price
Sale price
$16.99 USD
Unit price
per
Sale
Sold out
Arnica is a well-known herb used widely in Europe and traditionally grown & harvested in their mountains. The Arnica Montana flowers are used to make a healing herbal oil that many practitioners, physiotherapists & athletes use for any non-open wound, sprain, bruise, bump, pulled muscle, or on sore, inflamed, over-worked muscles and joints. Great to help relieve those tense neck muscles that can lead to stress headaches or to use on tired or achy sore feet, or stiff sore low backs.
St. John's Wort is a well-know nerve calmer, eases pain and associated shooting nerve pain. It has been used effectively for sciatica, neuralgia, post shingles neuralgia. The combo of Arnica and St. John's Wart make a great blend, complementing each other's properties to increase effectiveness.
This is in oil form with no bees wax added. It is more like a massage oil or similar to a liquid liniment style. The oil form has a silky texture with natural vitamin E oil added to increase its anti-oxidant content, healing potential & shelf life.

Directions: Both the oil and salve are for external topical use only. Great to use as a therapeutic, extra-healing massage oil on tense, sore, aching muscles. Use on bruises, sprains & arthritis, tense neck muscles or on inflammation or sore joints. May speed recovery after exercise or trauma. Effective for shingles' neuralgia, after the shingles sores are healed, and to help with the associated nerve pain. To speed healing for shingles or herpes attacks use the Flower Fairy Cold Sore Balm first then proceed to the Flower Fairy Arnica & St. John's blend.

Ingredients: Hand-picked, Victoria-grown, organic, fresh Arnica Montana flowers, St. John's Wort flower heads & St. John's Wort extract, cold-pressed, extra virgin olive oil, natural vitamin E oil, sunflower seed oil, jojoba oil & may also include grapefruit seed extract. Packaged in a tinted glass bottle.
Caution: Please do not use on open or bleeding skin. External use only.
Share
View full details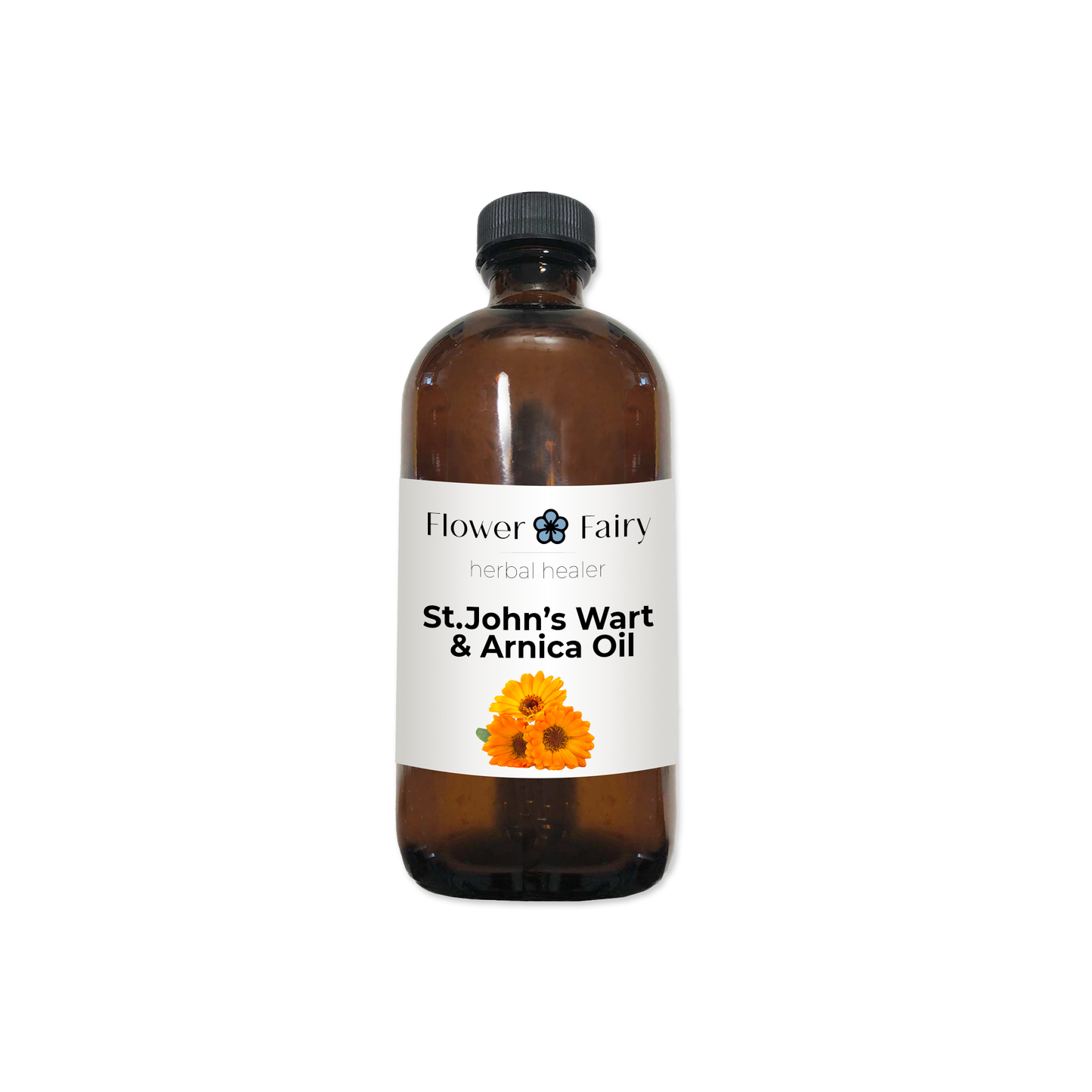 Collapsible content
Sustainability

Extra packing material like boxes are not used - only minimal packaging to reduce waste and energy.

Glass, plastic bottles, droppers are fully recyclable.

High quality dark glass bottles for better preservation.

Plastic is PET, BPA free, 100% recyclable and highly sustainable.
Ingredients

USA/North American Certified Organic, Non-GMO ingredients, no synthetic processed oils, gluten free, Vegan, no animal cruelty, paraben free, none of the harmful chemicals or preservatives which can be hidden in the label under various names.

Ingredients are always ethically and sustainably sourced.
HANDMADE

QUALITY INGREDIENTS

CERTIFIED ORGANIC

ECO SUSTAINABLE

MADE IN NORTH AMERICA