Regular price
Sale price
$17.99 USD
Unit price
per
Sale
Sold out
This spray has a soothing, sweet, calming blend of essential oils to help calm the body and mind, encourage dreams, meditation and sleep. Mildly disinfecting and aura cleansing, helps release negative energy or reduce bacteria in the air.
Chamomile may help to sedate and reduce stress.  It has shown to have positive effects on conditions such as PMS, helping to lift mood, improve sleep, ease irritability, and reduce stress headaches.
Lavender is considered by Medieval Europeans to be the herb of love. Known to help stress headaches, aches and pains, to improve emotions, help lift mood, ease nervousness, relax the mind and enhance sleep. May strengthen the immune system, perhaps due to its anti-septic qualities.
Clary sage is noted to help improve immune function, helps calm the mind and ease stress. Could benefit in relieving some physical/emotional symptoms of PMS, menopause, emotional stress, nervous tension, and headaches. Considered an aphrodisiac and is said to increase intuition and make dreams more vivid.
Ingredients: 100% certified organic, fair-trade, pure & natural essential oil of lavender, chamomile & clary sage, in a base energized reverse osmosis H20, grapefruit seed extract & food grade grain alcohol.
Directions: Shake well before using. Spritz a bit away from item. This can be used for calming, especially in the bedroom. Lightly mist on non-delicate pillows and bed linens to help calm & soothe the body & mind, encourage a peaceful slumber and increase dream time. Its pleasant fragrance can be also used in bathrooms, in the air to freshen or to reduce odours.  May be a useful spritz on yoga mats & to clear energetics.

Cautions: Avoid clary sage essential oil during pregnancy & nursing due to its menstrual stimulatory effects, or if you have a history of seizures.  Avoid driving, due to the fact it causes drowsiness and increases the effects of alcohol. Avoid spraying toward face or eyes. Avoid using on delicate fabrics like silks or satin due to it's essential oil content.
Share
View full details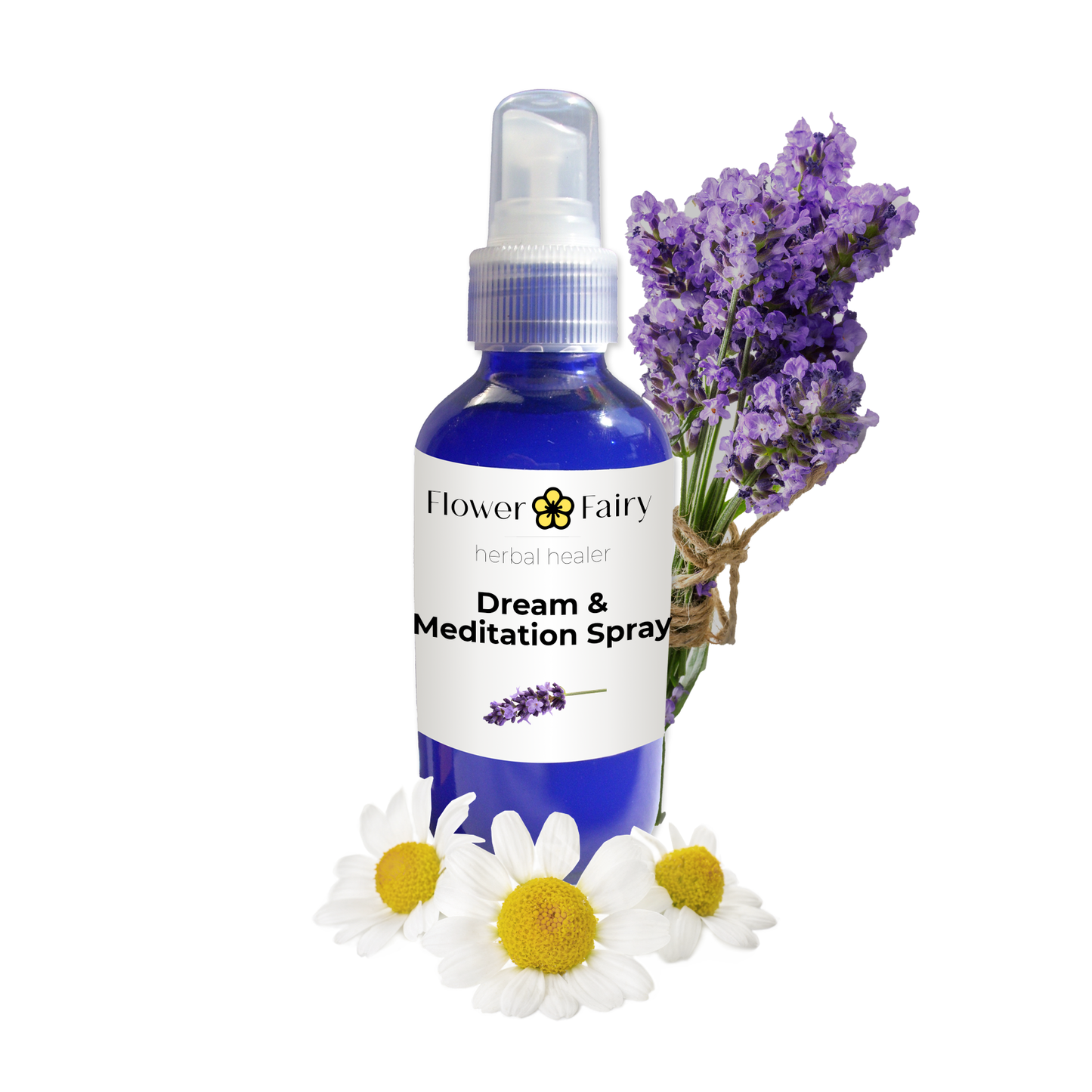 Collapsible content
Sustainability

Extra packing material like boxes are not used - only minimal packaging to reduce waste and energy.

Glass, plastic bottles, droppers are fully recyclable.

High quality dark glass bottles for better preservation.

Plastic is PET, BPA free, 100% recyclable and highly sustainable.
Ingredients

USA/North American Certified Organic, Non-GMO ingredients, no synthetic processed oils, gluten free, Vegan, no animal cruelty, paraben free, none of the harmful chemicals or preservatives which can be hidden in the label under various names.

Ingredients are always ethically and sustainably sourced.
HANDMADE

QUALITY INGREDIENTS

CERTIFIED ORGANIC

ECO SUSTAINABLE

MADE IN NORTH AMERICA